CHC41015 - Certificate IV in Celebrancy

Why I became a marriage celebrant? By Beth O'Brien, Director
In 1988 I saw my first marriage ceremony outside of a church setting. I was happy seeing it was all about the couple and their love and commitment to each other.
I immediately applied to be a marriage celebrant and waited 9 years for a vacancy. I was then appointed in 1995. I couldn't predict that as I was creating memories for couples and families, I would be creating memories for me too. I have met so many interesting people from such diverse backgrounds, more than I think I could have in any other profession. It still gives me a buzz 27 years later, standing next to two people making that commitment.
Most people are attracted to becoming a marriage celebrant or wedding celebrant, as many people call our profession, because of the joy they will witness in performing ceremonies. As celebrants, we work professionally and with a heart to design legally valid ceremonies and meet the stories and hopes of couples. Whilst joining with couples to make a lifetime memory for them, we find ourselves also enjoying and valuing those moments in our own careers. Some celebrants are also attracted to serve the needs for meaningful funeral celebrancy work and again are honoured to be the memory makers for those families.
Our goal is to have our new colleagues emerge into our profession who are confident and job-ready from our training. Therefore, we offer the course in differing modes (see Course Structure) and deliver it in a socially responsible manner.
Australian celebrants now perform approximately 79.7% (2018 Australian Bureau of Statistics) of all marriage ceremonies nationwide. In addition, it is believed that about 70% of funerals are also performed by celebrants.
When you consider becoming a celebrant, you must research wisely and find a training company that is the best fit for you. You should look for some of the following gems:
Best quality trainers, where you can read their profiles and see their extensive backgrounds in celebrancy and business
Your own personal tutor, with backup tutors if needed
A year to complete your course
An inclusive approach to all students
An ethos that learning should be both rewarding and fun
Longevity in the celebrancy training field
Do they have ongoing training and opportunities for professional improvement?
Course Structure
Australian Celebrations Training is a registered training organisation, RTO #31179, with the Australian government. We are the leading provider of humanist celebrant training in Australia. Our Cert IV in Celebrancy CHC41015 qualification has been designed by professional curriculum designers and highly experienced celebrants who understand the needs of adult learners.
If you are returning to study after a long break, we have designed the material to be user-friendly, academically sound, and of actual use in your future small business as a celebrant.
The Certificate IV in Celebrancy CHC41015 is made up on 13 units of competency and can be studied in a variety of ways. Please note that 2 of the competency units that are needed to become a marriage celebrant require a simulated marriage ceremony as part of the performance evidence in the assessment requirements. These are units CHCCEL004 Prepare for, present and evaluate ceremonies and CHCCEL007 Prepare for, present and evaluate marriage ceremonies.
Both units state the need for a simulated ceremony to be performed in the presence of 20 guests and require a PA system. This requirement has been set in the formal qualification CHC41015. We train students to every element of the qualification to ensure their best opportunity for professionalism in skills and knowledge.
This can be achieved using one of these methods: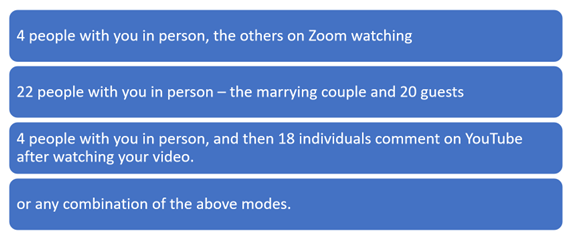 Modes of Study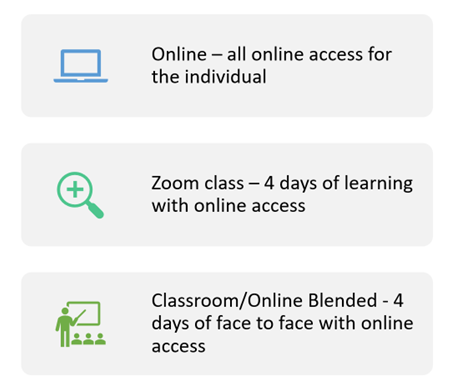 Please read our Course Information Guide for more information.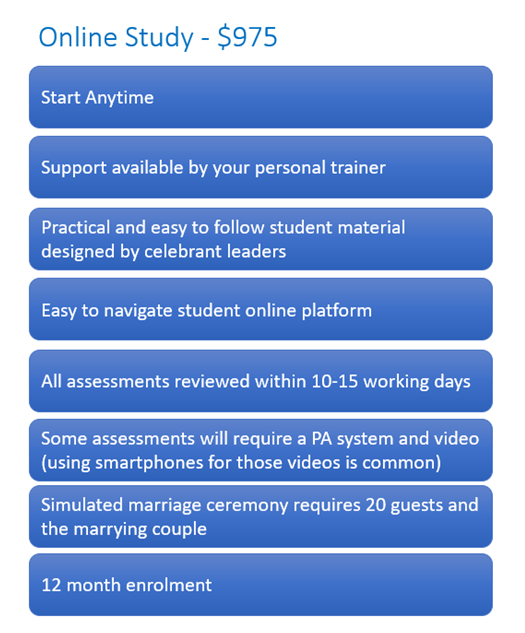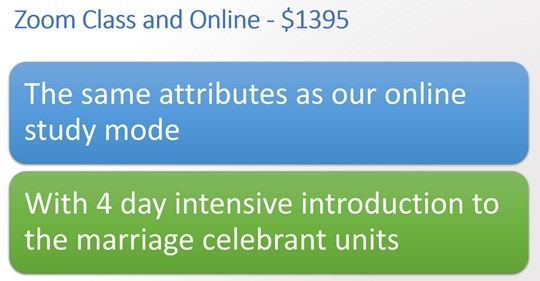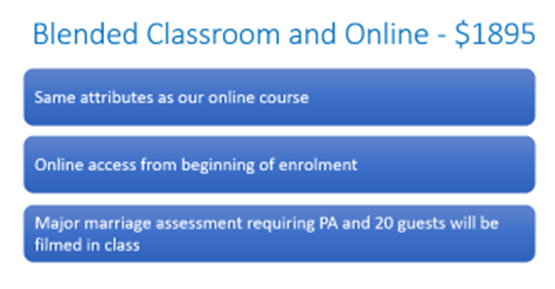 To seek an appointment as a marriage celebrant, you need to complete the 13 units in the Certificate IV in Celebrancy – this is made up of 9 celebrancy units of competency and 4 electives. We have written the curriculum in a holistic manner to avoid duplication of assessment work. Of the four electives, we have chosen one, and then you will select a group of three, either the business electives or the funeral electives, as we want people to have a qualification that is most useful to them. You must complete all 13 units before applying to be a marriage celebrant.
Whilst the funeral celebrancy units are not compulsory to be able to work as a funeral celebrant, many funeral directing companies prefer to see that people have studied these units. In particular, the unit CHCCCS017 Provide loss and grief support, so that you understand how to be present and supportive with bereaved people, as well as your own self-care. Formal units of competency in funeral celebrancy may in the future be required to work in this area. Our company director Beth O'Brien, who designed this course, is an internationally certified thanatologist and psychotherapist (specialising in grief and bereavement support, education, and counselling). You can read about her extensive background at www.endoflifeplanning.com.au/beth-qualifications/
Buy now, pay later arrangements
We don't have payment plans directly, however; we have a payment services provider called Payright. When your Payright application is approved, you are required to pay a 20% deposit with the balance being paid fortnightly or monthly over 3 or 6 months. Please read the terms and conditions on their website https://www.payright.com.au/terms-and-conditions/ to see if this option would be suitable for you.

How to become a marriage celebrant in Australia?
To seek appointment as a Marriage Celebrant in Australia, you must first complete the course Certificate IV in Celebrancy CHC41015. Once you have completed your qualification you can then apply to become a marriage celebrant with the Australian Attorney General's Department.
Please read their webpage:
https://www.ag.gov.au/families-and-marriage/marriage/become-marriage-celebrant
Before enrolling you should familiarise yourself with the appointment process by visiting their webpage, and you should also read the Conflict of interest and benefit to business for Commonwealth Registered Marriage Celebrants to ascertain if you may have a perceived conflict of interest which may jeopardise your appointment as a marriage celebrant.
If you are planning to marry a family member or a friend in a once off occasion
We appreciate that this is a beautiful hope of many people; however, this is not a quick process. The qualification is extensive and usually takes one year to complete. Once you have completed your course, you are then required to submit your application for appointment to the Attorney-General's Department.
Processing this application usually takes 3 months, and there is a $400 application fee. In addition, you need to be appointed at least one month before the wedding date to accept the Notice of Intention to Marry form from the marrying couple. Also, once you become a marriage celebrant, there are ongoing financial obligations to hold your registration. You may wish instead to find an authorised marriage celebrant in your local community who you be willing to allow you to present some of the ceremony.
For further information please download our:
or email us from our Contact Us Page to request an Information Pack.